Astros owner talks team, community involvement at HABJ board meeting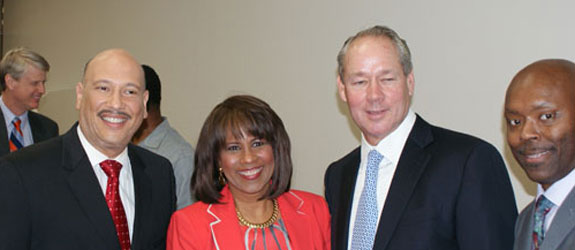 HOUSTON -- New Houston Astros owner Jim Crane made a special appearance at the April meeting of the Houston Association of Black Journalists on Monday, April 23.
After an introduction by HABJ president Jerome Solomon, Crane, the first owner of a sports franchise to address the organization, discussed a variety of issues relating to his purchase of the team and plans for more community involvement on its behalf at the gathering, which was held in a meeting room at the Houston Chronicle
Crane spoke publicly for the first time about his plan to renovate a dozen city parks, where youth baseball leagues will operate. The City of Houston has given Crane the go-ahead to take over the city-run parks and turn them into baseball facilities.
Crane says he has elicited help from business leaders around town in an effort to get 12 corporations to fun the project in conjunction with the Astros in Action Foundation. Each company would be responsible for a park.
Crane said he already has seven commitments for the yet-to-be-announced project, which comes with a start-up cost of $6 million. Each corporation – Halliburton, Calpine, BlueCross BlueShield of Texas are among the early commitments – will give $250,000 for renovation of a park and another $250,000 annually for the operation costs.
He also discussed employment opportunities for HABJ member with the Astros new cable television network, a joint venture with the NBA's Houston Rockets and Comcast SportsNet, his plans for turning the Astros into a winning organization and how payroll factors into the operation of the team.
Melanie Lawson of KTRK-TV asked Crane about the dwindling number of African Americans in Major League Baseball and Butch Alsandor of KHOU-TV interviewed Crane on camera for the evening news telecast.
Crane told Shannon Bugs, the director of communication for the College of Liberal Arts and Social Sciences at the University of Houston, that one of the parks on his list is Sunnyside Park, and that the program he is sponsoring will be a comprehensive one that should provide baseball opportunities for 500 kids with minimal investment from families.
Crane, a St. Louis native who attended Southwest Missouri State, said that his family likely would never have been able to afford to send him to college had it not been for a baseball scholarship. He says wants to help others to have the same opportunity that he had.
"We've found that a lot of kids aren't playing baseball because they can't afford it," Crane said. "We want to do something about that."
Food for the meeting was supplied by Executive Chef Reginald L. Martin Jr. of Lemond Catering and Special Events.
Event Photos
Warning: include(/home/habj/public_html/gallery//plog-content/themes/default/thumbs.php): failed to open stream: No such file or directory in /home/habj/public_html/gallery/plogger.php on line 164

Warning: include(): Failed opening '/home/habj/public_html/gallery//plog-content/themes/default/thumbs.php' for inclusion (include_path='.:/opt/php54/lib/php') in /home/habj/public_html/gallery/plogger.php on line 164


View Event Gallery