Community Service Statement
HABJ Provides 22 Years of Community Service
HABJ, an affiliate of the National Association of Black Journalists (NABJ), is a nonprofit organization of media industry professionals from the Houston area who represent members in every facet of print, broadcast, online and corporate communications. Part of HABJ's mission is to provide professional development, honor excellence in journalism cultivate young journalists and ensure accurate coverage of the minority community. Consistent with its mission, HABJ provides scholarships, workforce development and summer intern opportunities for college students majoring in the field of communications. Additionally, HABJ presents community outreach programs, seminars and town hall forums free of charge for civic groups and communications professionals. The goal of the HABJ 22nd Anniversary Awards Dinner is to raise $150,000 to enable HABJ to continue its vital mission. We need the support of sponsors to continue these worthwhile efforts.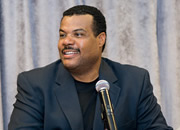 HABJ has awarded nearly $65,000 in scholarships to dozens of Houston area college students majoring in the field of communications. Past scholarship recipients have been selected from area colleges and universities, including Texas Southern University (TSU), Prairie View A&M University, the University of Houston, Sam Houston State University and the Houston Community College System. The scholarships range from $1,500 to $2,500 per student.
In 2005, HABJ founded the Scholars Development Program to develop the journalistic skills and job readiness of scholarship recipients while they complete their undergraduate degrees and to assist them in finding and transitioning into their first post-graduate positions in the industry. Prior to graduation, these HABJ scholars are successfully placed in internships at local media outlets and corporate communications departments.
For more than 10 years, HABJ has sponsored the hugely popular "Making the Media Work for You" which is a day-long media seminar to educate small businesses and community-based, nonprofit organizations and college students on how to effectively access the media. The workshop is held on the campus at TSU and presented by panels of local media professionals, including television anchors and reporters, newspaper publishers and editors, radio station general managers, journalism professors and corporate communications professionals. With the generous support of sponsors in 2007, HABJ partnered with the Tavis Smiley School of Communication of TSU to provide the seminar free of charge for nearly 125 attendees.
In addition, HABJ has partnered with Rice University to present free annual newsworthy community issues in a town hall format at the university. For example, in 2006, the "Conversation with Mayor Bill White" town hall forum was held to discuss Hurricane Katrina evacuees and other pressing issues in Houston. In 2007, another town hall forum addressed the coverage of the black community in the media. The town hall panel included media professionals and legal experts who engaged more than 250 people in a three-hour dialogue.
With your generous support, HABJ will continue to provide quality programs and services to the community, students and journalists and advocate on behalf of black journalists in Houston and the surrounding area.