HABJ Membership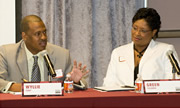 Membership in HABJ, the 2006 National Association of Black Journalists chapter of the year, provides members with various benefits and opportunities to participate in
professional development activities. Upon joining, all members are asked to participate in one of the committees listed on the membership application. Membership criteria, as dictated by our bylaws, in HABJ is open to working journalists, associate communicators and full-time college journalism or communications students. Only members who are working journalists and associate communicators have voting rights.
Currently, dues are $40 for full and associate members per calendar year and $15 per calendar year for student members. Dues can be paid at any time during the calendar year, but are not pro-rated.