Membership Criteria
In accordance to Article IV of HABJ's By Laws, membership in HABJ, Inc. is open to the following:
Working journalists, associate communicators and full-time college journalism or communications students.
Working journalists shall include those journalists whose full or part-time job is to produce, gather, disseminate or distribute news, e.g., reporters, producers, editors, photographers and news technicians.
Associate membership shall include public relations specialists, journalists or communications professors and free-lance journalists who spend at least 50 percent of their working time producing, gathering, disseminating or distributing news.
Student membership shall be open to those who are enrolled full time in a journalism or communications course of study at an accredited college or university.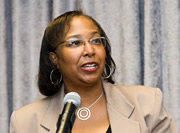 Apply for membership online:
Full/Associate Membership
Student Membership