New Cypress area lounge hosts Houston media professionals for good eats, entertainment
The Houston Association of Black Journalists were invited to enjoy a Media Day tasting at a new restaurant and lounge in the Cypress area. Fox 26 anchor and reporter Isiah Carey hosted the event on Feb. 18.
Dolce Houston is a hidden gem on FM 529 and Barker Cypress tucked away from the city life for the suburbanites. It's perfect not only for the singles or the dating, but for parents with children who are overdue for those date nights. Close enough to home and food too close to comfort.
Upon entrance, you're immediately welcome by the friendly, well-trained staff. Its peaceful ambiance makes you leave the stress and struggles at the door. Dimmed lights and dark wooden furniture makes you feel homey and fancy. It's a place for those who are both under-dressed and love to dress. Sure enough, the soft jazz playing in the background had me wishing the love of my life was seated beside me and not my cameraman.
As intimate as the venue is, the food was even more so. I devoured perfect bite size pieces of 15+ entrees from their menu. What didn't leave an impression, left a memory like one of those secret love affairs or rendezvous, too wonderful to put into words and too good to share.
Some MUST try items are:

Crab Cakes- served over caramelized corn, perfectly cooked and seasoned. The sweetness of the corn paired well with the natural saltiness of the fresh picked blue crabs.

Catfish & Grits - breaded, fried catfish served over a bed of grits. It had me thinking I was out of my dress and in my PJs at home. It's like North Houston's twist on Breakfast Klub's infamous Fried Catfish & Grits. Actually, even better.

Lobster Tacos - fresh, succulent whole lobster claws in a cheesy Southwestern and Cajun mix served open face in soft tortilla. You cannot eat one, three at the very least. Salmon Kabobs - Seasoned chunks of wild caught salmon served on a skewer with onions, pineapples, and bell peppers.
Dolce Houston is northwest Houston's saving grace from the long drives into the city for delicious, comfort food and upscale venue. It does not disappoint. Don't sit in traffic for what's found on that long commute home or what's in front of your door steps. Come relax and enjoy one of Houston's best new hot spots.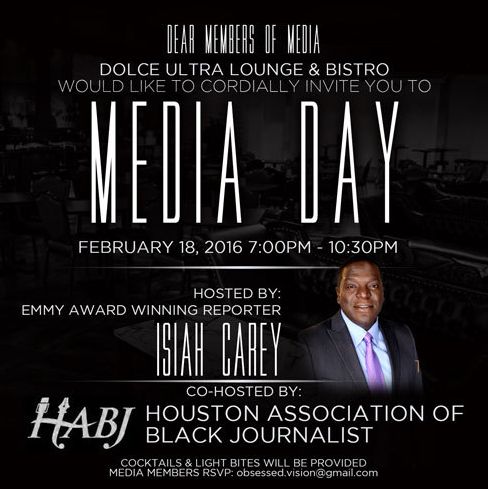 Event Photos

View Event Gallery