Mayoral candidate Benjamin Hall addresses HABJ members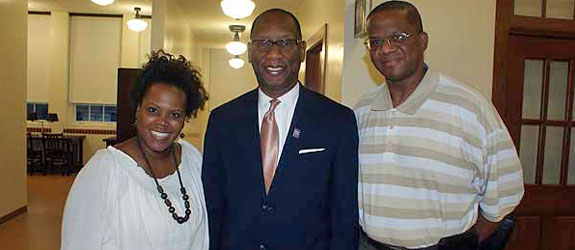 HOUSTON -- Mayoral candidate Ben Hall was guest speaker at the Houston Association of Black Journalists meeting Tuesday, May 14. The meeting was held in historic Freedman's Town at the African American Library at the Edgar M. Gregory School, the first public school for African Americans.
Hall laid out his platform and plans for the city, if elected, and members were allowed to have a candid Q & A session.
Event Photos
Warning: include(/home/habj/public_html/gallery//plog-content/themes/default/thumbs.php): failed to open stream: No such file or directory in /home/habj/public_html/gallery/plogger.php on line 164

Warning: include(): Failed opening '/home/habj/public_html/gallery//plog-content/themes/default/thumbs.php' for inclusion (include_path='.:/opt/php54/lib/php') in /home/habj/public_html/gallery/plogger.php on line 164


View Event Gallery