Roland Martin, Danieal Manning host HABJ All Star Jam 2013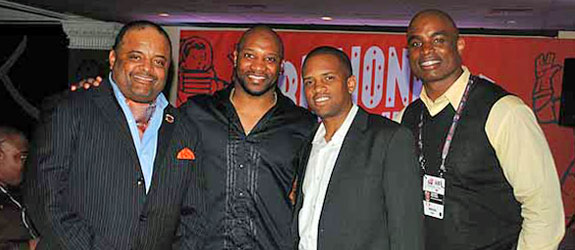 HOUSTON—The Houston Association of Black Journalists held its "HABJ All-Star Jam 2013" at The Capitol at St. Germain in downtown Houston on Friday, February 15.
The function was hosted by Houston Texan Danieal Manning and Roland Martin of CNN and TV One. Several national and local media professionals, NFL and NBA players mingled with the guests.
Guests were given the VIP treatment with free food, the Mambo Jazz Kings band and a live DJ!
It was a great networking and fundraising mixer.
Proceeds from the event benefit the HABJ scholarship fundraiser. HABJ awarded $10,000 in scholarships last semester.
Event Photos
Warning: include(/home/habj/public_html/gallery//plog-content/themes/default/thumbs.php): failed to open stream: No such file or directory in /home/habj/public_html/gallery/plogger.php on line 164

Warning: include(): Failed opening '/home/habj/public_html/gallery//plog-content/themes/default/thumbs.php' for inclusion (include_path='.:/opt/php54/lib/php') in /home/habj/public_html/gallery/plogger.php on line 164


View Event Gallery