HABJ Student Mentorship Breakfast 2012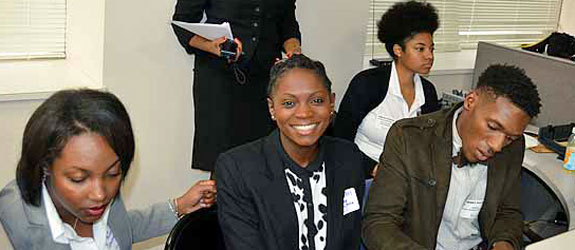 HOUSTON—College students in the Houston area joined the Houston Association of Black Journalists (HABJ) at the Annual Student Mentorship Breakfast Saturday, December 1, 2012.
HABJ members were out in full force to give advice, share personal stories and mentor students trying to make it in the industry.
HABJ members: We are asking all of you to come out in full force for this event, even if our schedule only permits making a brief appearance.
Check out photos from the 2012 event!
Check out photos from last year's event!
Event Photos
Warning: include(/home/habj/public_html/gallery//plog-content/themes/default/thumbs.php): failed to open stream: No such file or directory in /home/habj/public_html/gallery/plogger.php on line 164

Warning: include(): Failed opening '/home/habj/public_html/gallery//plog-content/themes/default/thumbs.php' for inclusion (include_path='.:/opt/php54/lib/php') in /home/habj/public_html/gallery/plogger.php on line 164


View Event Gallery