Congratulations! HABJ awards scholarships to students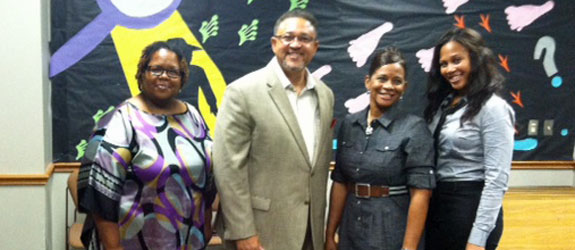 HOUSTON—The Houston Association of Black Journalists (HABJ) presented five journalism students with scholarships for the Fall 2012 semester on August 21, 2012.
The HABJ scholarship presentation took place at the Barbara Bush Library in Spring, Texas. Recipients present at the ceremony included Christy Ikonne (Texas Southern University), Shardanna Jones (Lone Star College), Vickee Syes (Texas Southern University) and Irv White (Texas Southern University).
Phyllis Schooler, mother of Troyla Washington (Prairie View A&M University) accepted the scholarship on her daughter's behalf.
Congratulations to all the recipients!
Event Photos
Warning: include(/home/habj/public_html/gallery//plog-content/themes/default/thumbs.php): failed to open stream: No such file or directory in /home/habj/public_html/gallery/plogger.php on line 164

Warning: include(): Failed opening '/home/habj/public_html/gallery//plog-content/themes/default/thumbs.php' for inclusion (include_path='.:/opt/php54/lib/php') in /home/habj/public_html/gallery/plogger.php on line 164


View Event Gallery